Former Gulf Coast University Head Coach Andy Enfield shares his secrets to the up-tempo style of basketball that enabled his team to become the first-ever 15-seed to reach the Sweet Sixteen in the NCAA Tournament and earned his team the nickname "Dunk City" University. Also, learn one of the most effective ways to disrupt offenses from Marshall University Head Coach, Tom Herrion. The ability to switch your defensive look between man and zone pressure, while utilizing various ball screen coverages in the half-court, is essential to creating an uncomfortable feeling in your opponent.
See more on both these exceptional Basketball DVDs below:
Andy Enfield: Up-Tempo Transition Game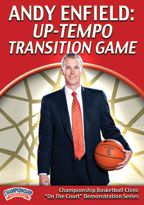 Learn the up-tempo philosophy, drills and strategies that catapulted Andy Enfield's Gulf Coast University team to the Sweet Sixteen in 2013
Learn breakdown drills for developing the skills needed to play up-tempo basketball
Discover how to attack the defense with various ball screen options and offensive sets to get good looks on the perimeter or inside
Tom Herrion: Stifling Your Opponent with Multiple Changing Defenses
See how a multiple defensive system can disrupt your opponents' ability to play the way they practice
Learn to recognize opportunities to change your defensive scheme to keep your opponent off balance
Discover how to teach, implement, and execute multiple defenses without confusing your players
Learn full-court man presses designed to limit the effectiveness of your opponent's point guard, as well as two three-quarter court containment presses
If you buy these two videos above and add one more, you can get all three for only $99.99! Buy any 3 basketball DVDs for $99.99!